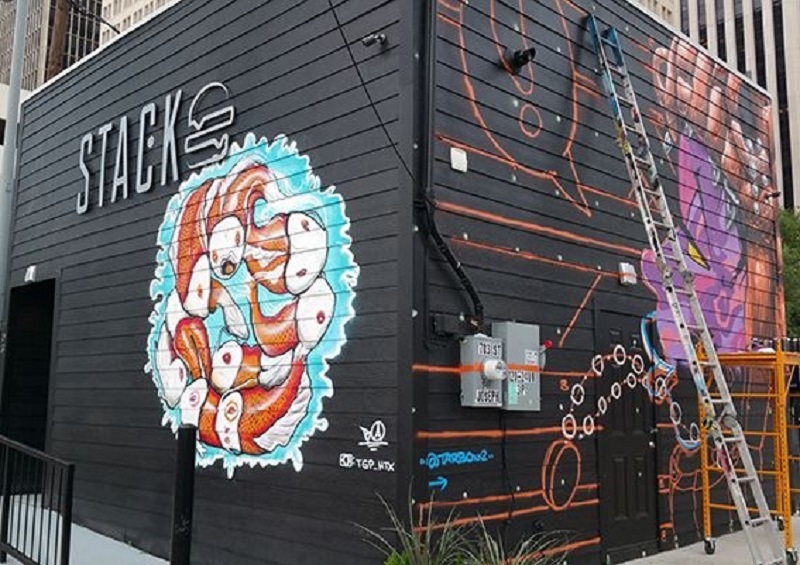 "Small place, simple food, great art and the best people"
Bringing together the best food, vibrant art and friendly service to downtown Houston. Come enjoy a classic, made to order American hamburger. Not in the mood for a burger? Try one of our breakfast items or a Stack baguette. Within walking distance from Midtown and don't forget, we make our breakfast fresh, all day - every day!
Surrounded by so much glass and concrete in Downtown we wanted to bring some color to the area by commisioning a local muralist to paint the building. With the ability to host groups and events we want to bring the creators, the artists, the designers etc. of Houston and their communities together over great food.
Testimonials
What The People Are Saying
The menu is very simple... the Korean Bulgogi. Amazing! The bread - the French baguette - really made this sandwich.
Ricardo D
A cool looking burger joint. Customer service was excellent and the food came quicklt. The prices are really cheap. Definitely a great place.
Michael Davidson
Excellent burger, juicy but not dripping, good flavor patty, fresh vegatables, condiments are not over-powered. Thick fries with nice seasoning.
Kilt Joy
The best Vietnamese iced coffee in downtown Houston - not only are the burgers delicious, try the Vietnamese sandwiches (Banh Mi) too.
Binh N
Stack is my go to place for lunch in Downtown when I am on the run - good prices and menu selections.
Chris D
Gallery
Stack Burger Gallery